The Franklin Community Educational Foundation is selling hanging flower baskets of various types and colors for spring and Mother's Day this year, in the absence of local favorite Meadowbrook Farm.
Attached is a flyer illustrating the flower baskets available. Orders and payment are due by May 4th, and may be made through the Main Office of Franklin Central School or through FCEF members: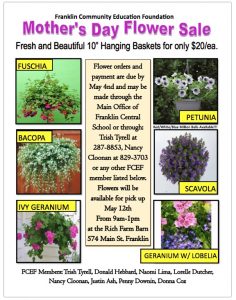 Trish Tyrell at 287-8853
Nancy Cloonan at 829-3703
Naomi Lima
Justin Ash
Penny Downin
Donna Cox
Sara Leddy
Diane Whitbeck
Flowers will be available for pick up May 12th, 9am-1pm, at the Rich Farm Barn 574 Main St. Franklin
The Education Foundation appreciates your interest and support over the years as we endeavor to support our youth grades K-12 to achieve academic success and opportunity.